Custom Home Builder Adelaide
The benefits of working with a custom home builder.
Your home is a reflection of you, and should be just as unique as you are.
Choosing a custom home builder gives you the opportunity to build a home that is designed specifically to meet your needs and desires. A custom home builder can give you the space that accommodates your family, a floor plan that suits your lifestyle, materials that enhance the home's character and the little details that reflect self-interest.
Alan Sheppard Constructions' reputation for building award-winning homes has enabled us to be one of Adelaide's best custom home builders. We take great pride in our work and are passionate about not just creating new homes, but helping our clients create new memories
Experience and expertise
With over 40 years of experience, a custom home builder like Alan Sheppard Constructions is equipped with the expertise, knowledge and skill to oversee each and every aspect of the building process. As a licensed Master Builder, we've earned accreditations that give our clients confidence in our ability to build their dream home. Read more about our approach HERE.
Alan Sheppard Constructions is 'South Australia's Most Awarded Builder of Luxury Homes' and are proud to have been awarded for our work. We invite you to view our awards HERE
Flexibility to have a floor plan that suits your needs and lifestyle
One of the key benefits of working with a custom home builder is the ability to customise your floor plan. During the design phase, we'll review and discuss the following aspects to ensure your floor plan achieves your vision and suits your needs and lifestyle.
Size
The size of your home and the rooms within it can be mapped out according to your needs and specifications.
Style
Whether you're looking for a contemporary, modern or traditional home, your custom floor plan is developed to achieve the style you desire.
Practicality and lifestyle
A floor plan should be practical. What rooms do you use the most? What can't you live without? What areas do you enjoy spending time in? A custom home builder takes time to understand how you use your current home and can recommend a practical floor that supports the way you live.
Your floor plan should also enhance your lifestyle. Do you entertain at home? Do you enjoy outdoor cooking? Does your family enjoy their own privacy? All these things are considered in your floor plan design.
Storage
Home storage is a feature that is often overlooked during the design process. The layout of the home storage takes strategic thinking and a lot of time. Working with an experienced custom home builder helps ensure that all the details of your home are captured.
Luxury Features
Luxury home builds require highly skilled custom home builders who understand how to incorporate luxury features into your home's design. Read our five essential features for a luxury home HERE.
Future plans
Future plans are one of the many aspects to consider in your home build. You might decide to have more children or to have space for your parents to move into when they retire. You may even consider additional space for a home office for your new business. All these things are discussed during your home design consultation.
Custom materials that suit your style
Sustainable homes are becoming increasingly popular. Your custom home builder can advise you on the best materials that achieve a sustainable, energy-efficient home.
Buying power and supplier connections
Building a home on your own without the knowledge and connections we can offer can be a challenging and daunting process.
Custom home builders who have been in the industry for as long as we have, have built relationships with local suppliers who can offer cost-effective pricing. We also have a trusted network of reliable subcontractors who support our business.
Dedicated to delivering stellar home builds on time and on budget takes skill and experience which are delighted to offer our clients.
*Reduced rates for building supplies are not guaranteed.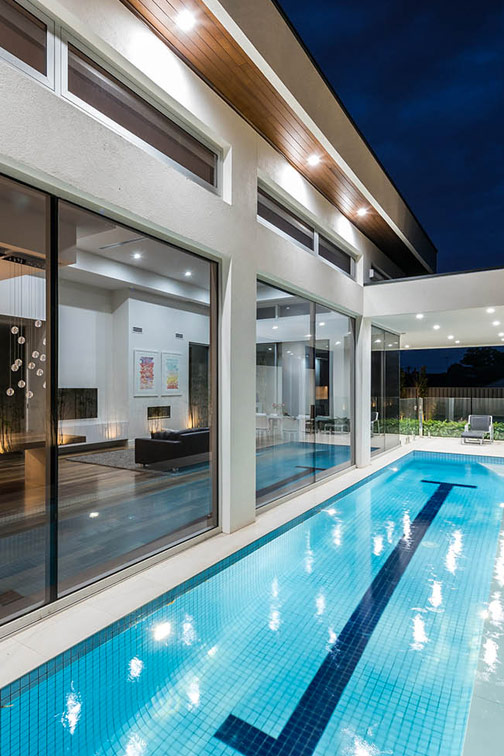 Time, effort and stress
Managing a home construction is not for the faint-hearted, and if you're already working full time, managing a build during your free time will quickly become challenging. Building a home takes time and effort. It can be stressful and best left to the professionals. Working with a custom home builder will help you build your dream home faster and with less stress.
Identify issues and mitigate risk
A custom home builder like Alan Sheppard Constructions can identify and advise on potential problems with your build or the land surrounding it. Identifying potential issues early on will save time and money in the future.
Build your dream home with an award-winning custom home builder
From concept to creation, we've been leading from the front when it comes to Luxury Home Builders. Every Alan Sheppard home brings your individuality to life in a way that only a Master Builder of award-winning custom-designed luxury homes can.
You can trust our innovative designs to bring function with beauty and combine them both, beautifully. And in the construction of your dream home, rest assured only Adelaide's best tradespeople set foot inside.
Connect with us today to discuss your dream home build.